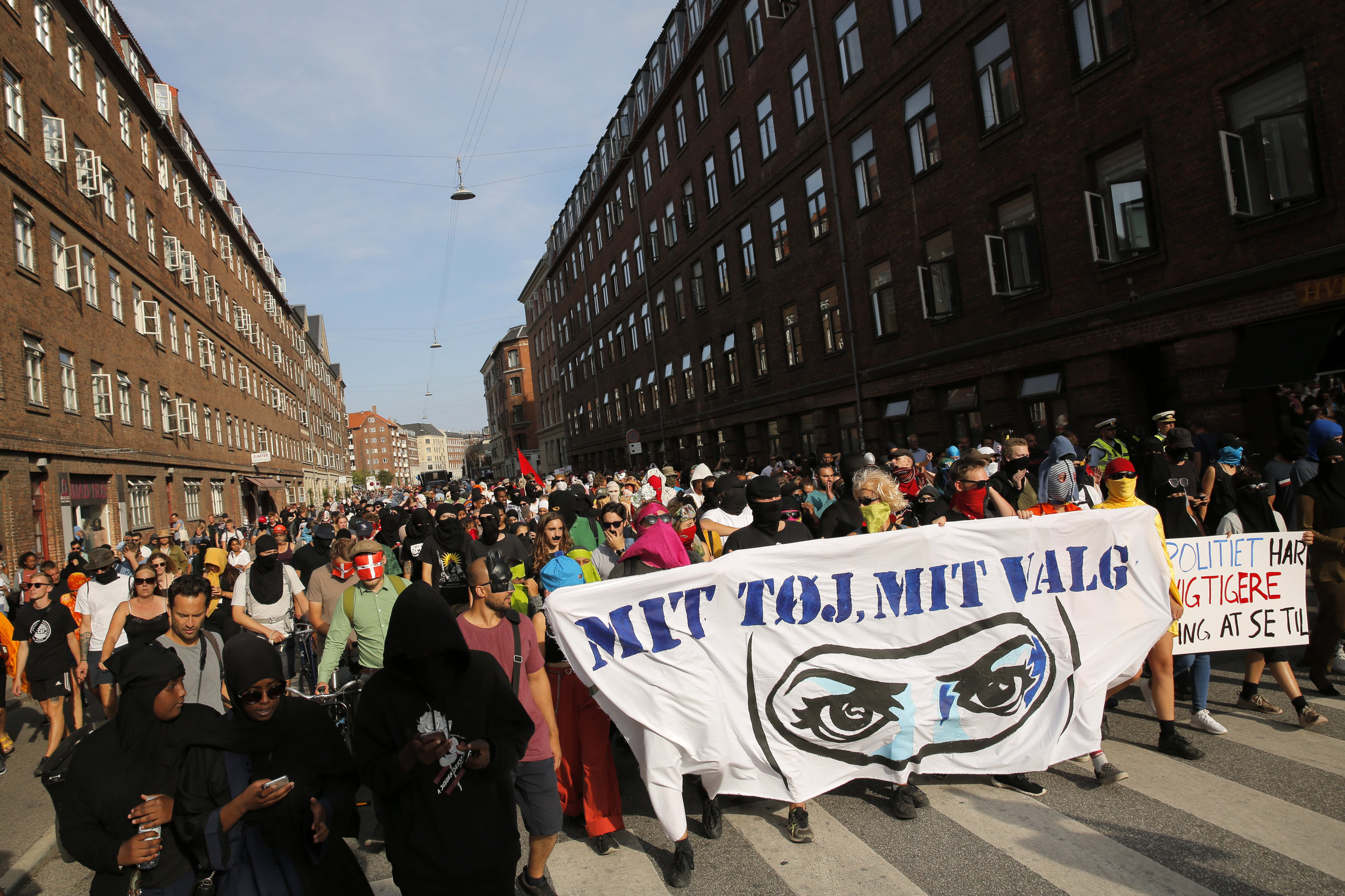 Anna-Bella and Amina clasp arms as they walk down Strøget, the main shopping street of Copenhagen. Their appearance often attracts a lot of attention. Some people offering them words of support while others will yell offensive comments about their niqab. They rarely venture into town due to this.
Ali watches on as his wife, Meryem, a 20 year old student of microbiology and medicine, works on her blog over a prepared vegan breakfast in Aarhus. Ali supports Meryem's decision to wear the niqab but feels life would be easier if she chose not to wear it due to increasing scrutiny of the garment.
Alaa, 22, secures her niqab before leaving a meeting. She has worn a niqab since the age of 16 and has the blessing of her college to wear it to her classes.
Ayah, 37, exits her building in Nørrebro. She is a western Dane and converted to Islam in her 20's.
Amira, Sabina and Zaynab meet after class in a recently developed park called Superkilen. Their mothers support their decision to wear niqabs but do not wear them themselves.
Sabina and Alaa wait to cross Nørrebrogad, the main street through the ethnically diverse Nørrebro neighborhood. They both run and organize a group called Women in Dialogue. The group holds public events to educate people on why they chose to wear their niqabs.
Alaa holds up a niqab she created to wear to a protest, organized to coincide with the August 1 ban on women in Denmark wearing niqabs.
Ayah peers from a window in the National Museum of Denmark. It was a place she said she would miss most when the ban on wearing face veils in public came into effect.
Sabina prays in a park by the seaside. Devoutly religious, her parents constantly worry about her safety over her choice to wear a niqab in the deeply divided country of Denmark.
Ayah and Aisha sit in a shopping mall in Hundige, a suburb outside Copenhagen.
Sabina and Ayah prepare to drive in Copenhagen, Denmark. Once the ban passed, driving in your own car in a niqab is considered legal yet accessing it from a public area means breaking the law.
Swimmers watch on as women in niqabs walk by at a former chalk mine turned swimming hole outside of Copenhagen. A number of politicians often argue that by wearing niqabs, women contribute to what is often mentioned in the media as a parallel society within Denmark.
Natacha and Nayab stand beside the apartment complex that Natacha calls home. Natacha converted to Islam, the faith of her husband.
Ayah shops at her local supermarket. The supermarket stated that once the ban passed, Ayah would be welcome to continue shopping there while wearing her niqab. Private companies have the right to choose whether they chose to prevent or permit the wearing of a niqab within their property.
Ayah pauses within the residence of her friend, Ahlam.
Aisha, Sabina and Alaa speak with Meryem on the phone to organize media interviews. All four are members of Women in Dialogue and were busy creating awareness of their plight in the lead-up to the ban.
Ayah rests with her daughter in the apartment of a friend in Copenhagen. Her daughter does not practice the Islamic faith but is fully supportive of her mother to do so.
Members of the group Women in Dialogue arrive at the People's House, a hub for activists in Copenhagen. A number of western Danish activist groups supported the niqab wearers of Denmark and used their experience and community to help organize the August 1 protest.
Mizgan places a hand painted sign against a wall to let it dry. Numerous workshops were held to prepare for the August 1 protest.
Alaa and Aisha paint a sign depicting a niqab during a workshop to prepare for the protest. The workshop was held following afternoon prayers in a mosque in Copenhagen's north.
People gather at a protest held in Copenhagen on August 1, the day that the Danish veil ban came into effect. Many attendees covered their faces to support the niqab wearers and to protest the new law.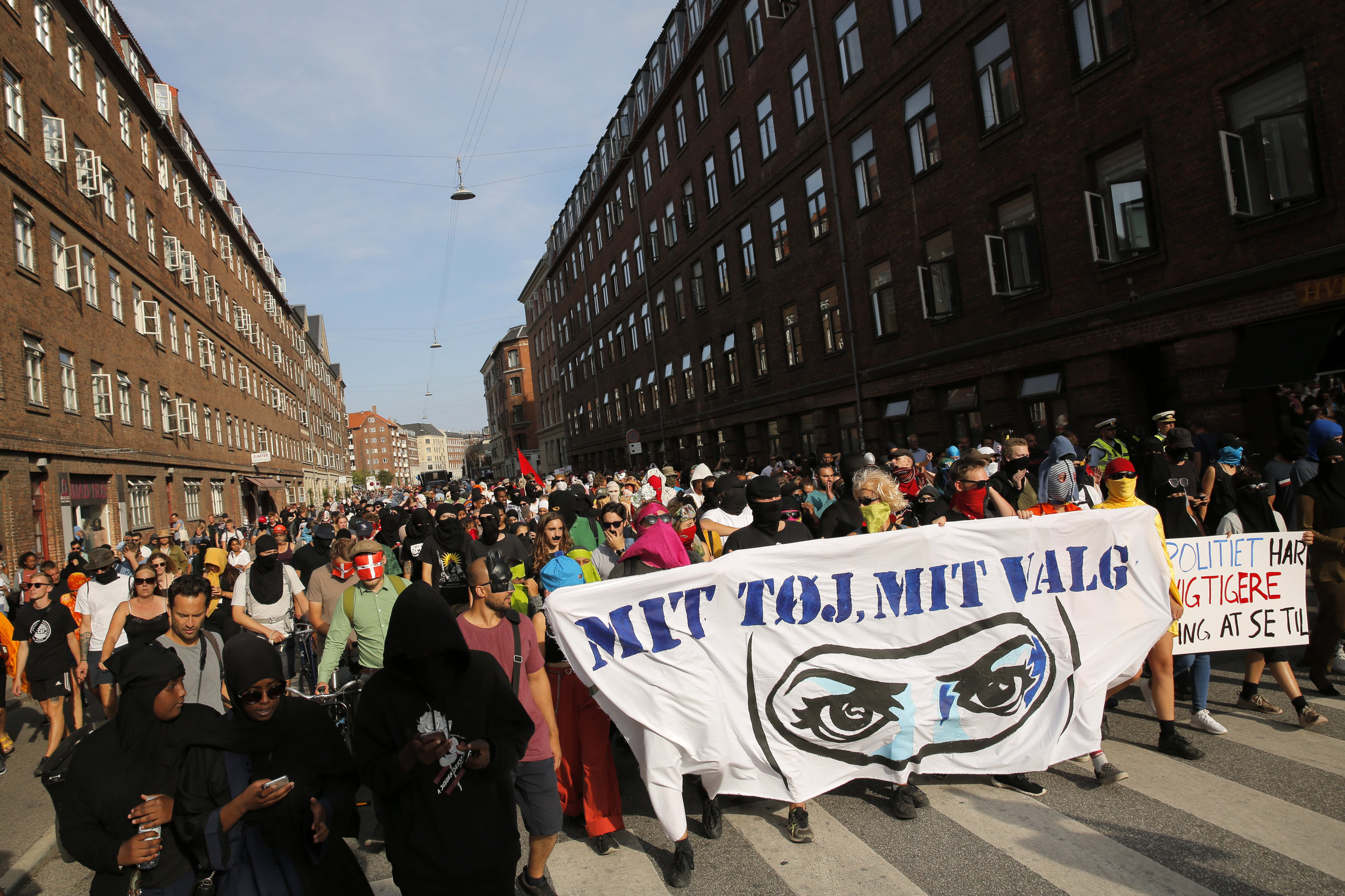 Protesters walk through the northern area of Copenhagen behind a banner stating "My clothes, my choice." The protest was estimated to be attended by numbers as high as 900 and was made up of western and non-western Danes.
Ayah is embraced by a police officer during a protest against the veil ban in Copenhagen on August 1. The officer has since been subjected to investigations ordered by the ruling political party of Denmark for "appearing to take sides on the issue."